TCL Music and Rock & Pop Digital Exams
Enrollments are now open for Trinity Digital Music Grades & Diploma exams and Rock & Pop Digital Grade exams for April, May, June, July and August 2022.
Closing dates :
15 March for exams in April 2022
15 April for exams in May 2022
16 May for exams in June 2022
15 June for exams in July 2022
15 July for exams in August 2022
Trinity College London has announced the launch of a new Digital Grades and Diploma platform that will allow students to take their music and drama exams remotely from November 2020.
Digital Grades and Diploma exams platform will allow candidates to submit video recordings of their work. Candidates will be required to upload their work as one continuous video performance, which will be assessed by one of Trinity's Examiners.
In Music Graded Exams, candidates will be required to upload a performance of their pieces and technical work; the assessment of the supporting tests or session skills will not be part of the submission. Instead, examiners will be applying an additional set of performance criteria that assesses the key musical skills underpinning the supporting tests requirements within the context of the whole recital.
In Music Performance Diplomas, the exam requirements are unchanged. In Drama Graded Exams and Performance Diplomas, adaptations will be made to the supporting tests, details of which will be made available shortly.
At this time the Digital Grades and Diplomas will be available for solo grades only.
Download Trinity Exam Registration Form & Fees
Download TCL Registration Form
Download Trinity Rock & Pop Entry Form
Download Trinity Rock & Pop Fee Details
How to make the Payment?
Bank Transfer
You can do a Bank Transfer, please see Bank Account Details
Please send us proof of payment and completed form by an email to [email protected] Also mention the name of the account holder in the email to reconcile the payment to the entry form received.
Payment at our Music Schools
You can pay at our school front office at Al Raha Mall & Al Wahda Mall. We accept only cash payments. We work from 10 AM until 9 PM on Sunday to Thursday, 10 AM to 7 PM on Saturdays and 12 PM to 8 PM on Fridays.
How Do I Take Trinity Digital Exams?
How to Register, film your recital, upload the performance video of your exam pieces & technical work, please read A Step-By-Step Guide To Trinity Digital Examinations
How Do I Check My Trinity Digital Grade Exam Results?
You will receive an email to let you know that your exam has been marked by one of Trinity's expert Music Examiners. Please read, how to see your final grade result and examiner Feedback comments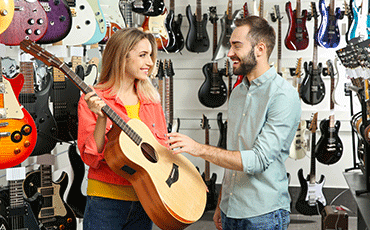 Musicians Corner has experienced customer service team on hand, who really know their craft and can advise you for the instrument you have been looking for.